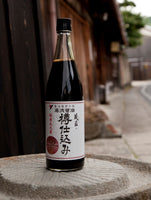 About MARUSHINHONKE and YUASA SOY SAUCE Limited
In the year Meiji 14 (1881), Ms. Sumi Shinko began selling her handmade Kinzanji-miso in Yuasa. She was very good at making it so she was called "the master of making Kinzanji-miso". We carry on Sumi's tradition and flavor and now Toshio Shinko is the fifth generation. We work hard to make a delicious product using only domestic ingredients even sourcing our sugar and salt, and we don't use any chemical preservatives or additives.
Our carefully chosen ingredients are more expensive, but we take our role as Wakayama's representative seriously and are dedicated to bringing you the best product. We offer the most varieties of Kinzanji-miso in Japan, including low salt, Yuzu, and extra vegetables, and we are always creating new varieties for your enjoyment.
'Tamari', the liquid that comes out of Kinzanji-miso during fermentation, is said to have been the first soy sauce. Yuasa Soy Sauce's 'Kuyo Murasaki', actual tamari from Kinzanji-miso, takes us back to that time with a product that gets rave reviews. This tamari was the beginning of our soy sauce production business, and led to the founding of YUASA SOY SAUCE Limited.